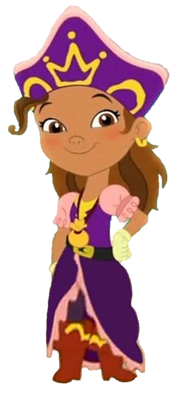 Mavis is the secondary dueteragonist of Carmen
Appearence
Edit
She is a Slender, 6 years old. She has medium skin, rosy cheeks, brown eyes and both black eyebrows and eyelashes. She wears gold loop earrings, a pink undershirt, purple pants, red boots and a pendant with a small pixie dust pouch. She has long, beautiful brown hair with a strand sticking out, a dress (consisting of purple top with yellow collar and vertical line on her chest, a plum sarong-like skirt with yellow brims, and short, puffy pink sleeves with each rose band on them) over her usual outfit, a pair of white gloves, a black belt with its gold rectangular buckle, and a large purple pirate crown with each yellow upside-down "U" shape on both sides, yellow outline crown in the middle, and pink horizontal border on top of it.
Ad blocker interference detected!
Wikia is a free-to-use site that makes money from advertising. We have a modified experience for viewers using ad blockers

Wikia is not accessible if you've made further modifications. Remove the custom ad blocker rule(s) and the page will load as expected.