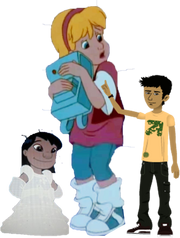 The Kids are three of the five tetartagonists of Carmen. Tiago is the oldest, Carla is youngest and Bia is younger
Appearences
Edit
Carla is a 7-year old girl with long, straight black hair and brown eyes. She wears both white gown and gloves. Bia has nine years old, blond hair with a red hairband, fair skin, pink lips and blue eyes. She wears a red shirt and light blue trousers. Tiago is 12-years old. He wears a yellow shirt, black pants and black-and-white shoes.
Ad blocker interference detected!
Wikia is a free-to-use site that makes money from advertising. We have a modified experience for viewers using ad blockers

Wikia is not accessible if you've made further modifications. Remove the custom ad blocker rule(s) and the page will load as expected.