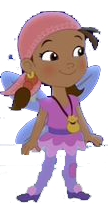 Tinker Bell is one of the four tritagonists of Carmen
Appearance
Edit
Tinker Bell is a slender, 6 year old. She has medium skin, rosy cheeks, brown eyes, both black eyebrows and eyelashes and brown pigtailed hair with orange beads on it. She wore gold loop earrings, a pink bandanna, a pendant with a small pixie dust pouch, a rose short-sleeved dress with pink brim on her tutu, a purple waistband, lavender stockings with a pink patch on her left calf, a pair of purple heeled shoes with pink buckles, and aqua wings on her back.
Ad blocker interference detected!
Wikia is a free-to-use site that makes money from advertising. We have a modified experience for viewers using ad blockers

Wikia is not accessible if you've made further modifications. Remove the custom ad blocker rule(s) and the page will load as expected.